Your Local Boat Rental Provider
Private Boat Charter
Take pleasure in a spectacular day out exploring the northern coastline of Kefalonia, and across to Ithaca. 
Live the dream aboard one of our charter boats with our charismatic, knowledgeable and qualified skipper Panos, and enjoy one of the most memorable days of your vacation. 
Swim in crystal clear water, enjoy the seclusion of hidden beaches, explore smugglers coves and perhaps be lucky enough to see some of the Ionian's natural wildlife.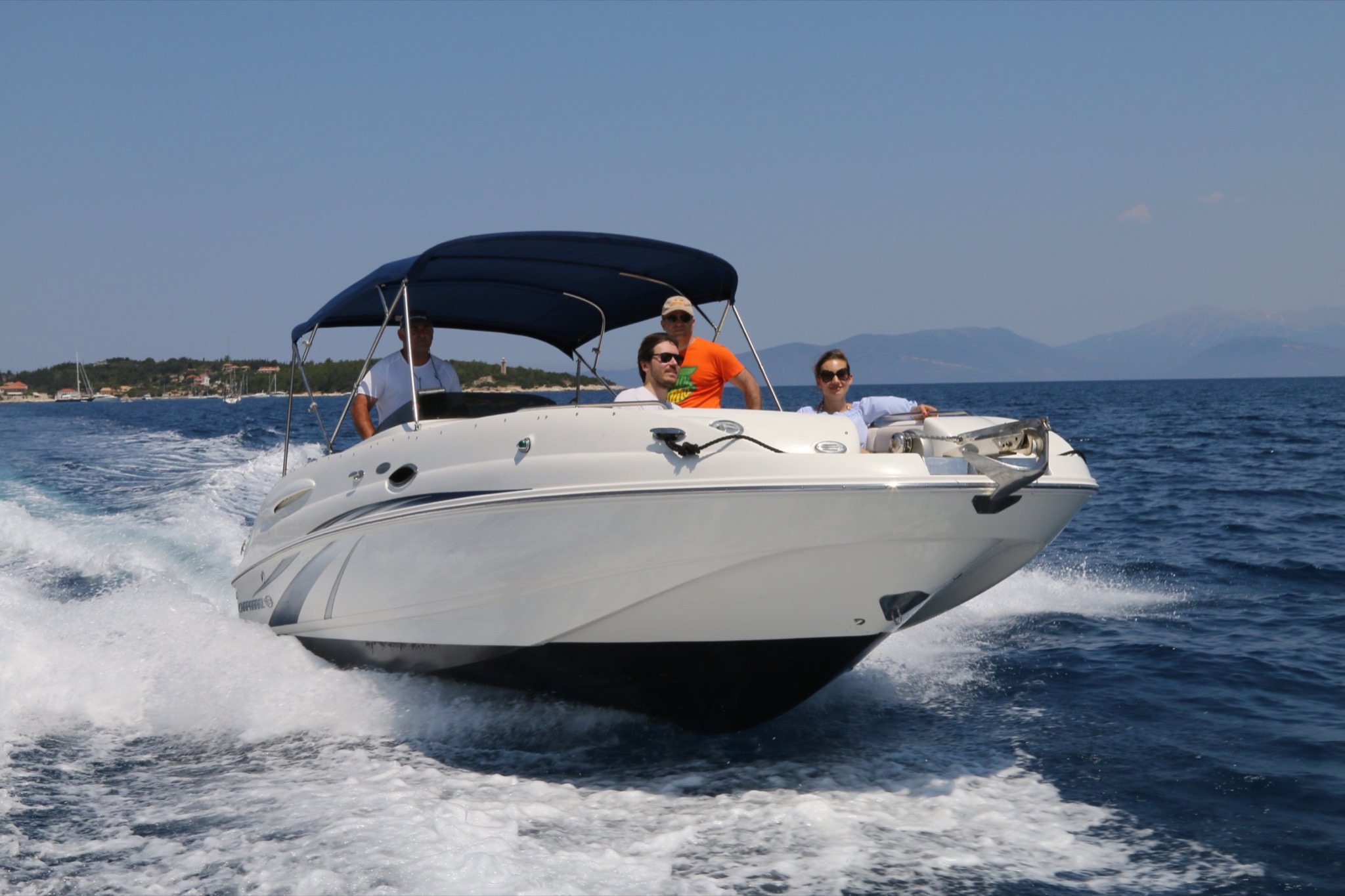 We have a choice of charter boats:
The Chaparral Sunesta 252, called Fisco Breeze. This is 7.5 metres long and has a 320-horsepower inboard motor.  This is the largest of the charter fleet and can take up to 9 passengers plus our skipper.  The cost for 9 passengers is between €650 and €700 plus the fuel.  If you have fewer passengers, the cost is reduced.
Sea Ray 240 SD model – Fisco Dream.  At 7 metres long with a 300-horsepower inboard motor.  Fisco Dream also takes up to 9 passengers with the cost between €650 and €700 plus the fuel.  Again, the cost is reduced if less passengers.
The Bayliner, Niki, is 6.4 metres long and has a 220 horsepower in board engine.  You can unwind whilst listening to music from the MP3/CD player relaxing on the comfortable seating.  Niki is available for up to five passengers, plus the skipper.
The cost including skipper excluding fuel is €350 for the low season and high season, €400 (excluding fuel).
The Rib, Blue, is 5.2 metres long and has a 115 horsepower out board engine. Blue takes four passengers plus the skipper.
The cost is €300 for the low season and high season, €350 including skipper excluding fuel.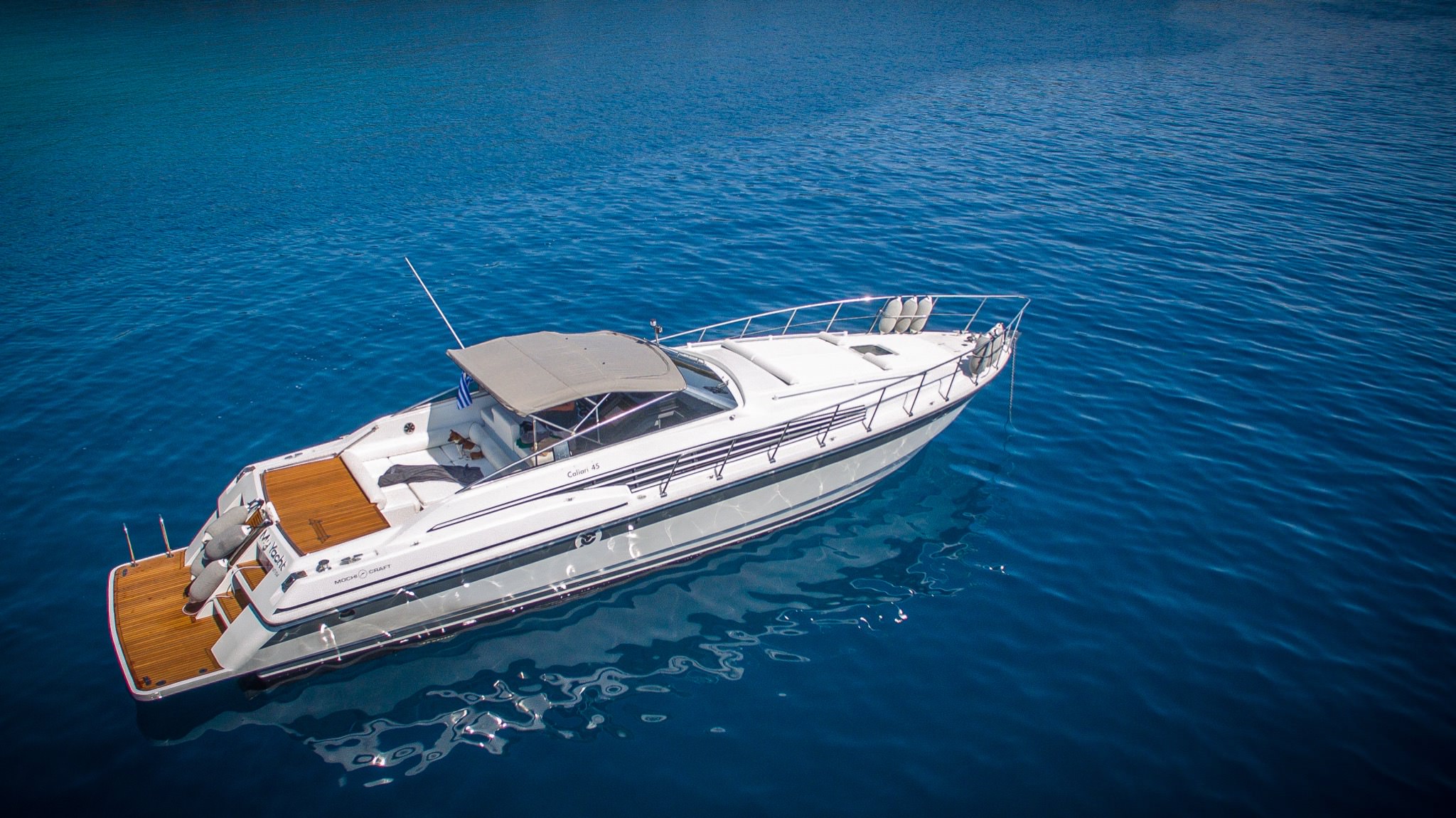 Touring the Ionian for Over 20 years
Your choice of boat can be chartered by the day for cruises.  You can set your own itinerary, with our skipper's approval, or select one of our most popular trips.  Panos has over 20 years experience of sailing in the Ionian and knows just the best places to visit to enjoy the beautiful scenery, crystal clear turquoise blue sea and look for marine life.
This may include sailing around the Northern coast of Kefalonia and both to and from the nearby island of Ithaca to Polis bay, the beautiful beach of Afales, and the fishing villages of Kioni and Frikes.
Or you may like a private water taxi service across to Ithaca, leaving Fiscardo harbour around 9am and leaving Polis Bay on Ithaca around 5pm to return to Fiscardo.  This round trip would cost from €120 or from €60 one way.
Wanting a one-way trip to or from Lefkas?  This can be achieved by private transfer to Vasiliki from Fiscardo harbour from €150 one way.
The My Yacht
This 15–metre beauty has two new Volvo in board engines D9 575 horsepower. Able to take 8 passengers, for daily cruises and sleeps up to 2 adults and 2 children for overnight charters, plus the crew. The yacht is fitted with a small kitchen, and deck equipment for sunbathing or relaxing in the shade. For your entertainment – Wi-fi, sound system and snorkelling equipment are available for you to enjoy.  Towels are provided and for longer cruises, linen and A/C.
For a special luxury day out on your holiday or to celebrate a birthday, wedding, engagement or anniversary, skippered by Kostas, My Yacht will be a unique experience for making memories.
Prices start from €1100 (plus VAT 24% and fuel) for a bespoke cruise or for one of the prepared cruises from €1550 including fuel.
Cruise details available HERE.

We had a fantastic day exploring the coastline of neighbouring Ithaka and swimming in little coves with crystal clear sea. Panos was an excellent skipper - very informative and fun to be with. He took us to a lovely little harbour for lunch. The boat was very clean, comfortable and fast! There is a good range of smaller self-drive boats and a larger luxury yacht also available to suit any pocket. Fuel charges are extra so ask beforehand if you need to know. Highly recommended for a great day out.

What a great way to explore the shoreline more closely. Popped over to moor on Ithaca for lunch sitting on the charming quayside and then across the waters to find a quiet cove with turquoise waters to swim off the boat. Nice bunch of guys to hire from and would recommend it as great day offshore.

We had a pleasant day out on a 30hp boat which while not New was clean and well maintained.
I've got a power boat licence but didn't mention this to the guys on the dock as one isn't required to rent a boat of this size. The safety briefing was adequate in my opinion and the limits of navigation explained well.
The boat performed well and we visited a couple of bays and popped over to Ithaca for some lunch.
Most Experienced Crew in Fiscardo
Top Quality Vessels for Touring the Island
Strict safety checks and procedures
info@fiscardoboathire.com
Fiscardo Port, Fiscardo, Kefalonia 28084, Greece